Program Information
SUMMER ACADEMY
July 12th - August 2nd, 2020
Black Hills State University
Spearfish, South Dakota
APPLICATION DEADLINE - March 20th, 2020
Save $25 & apply by February 10th to receive priority Financial Aid consideration
Application Requirements:
Submit a recent video recording of 2 contrasting pieces that demonstrate musical and technical ability.

Completed Online Student Application

Application Fee (non-refundable)

$50 Early Bird - February 10th, 2020

$75 - March 20th, 2020
The Summer Academy places a strong focus on individualized learning and progress. With no orchestra component, each student is able to receive 2 hour-long private lessons & 2 chamber music coachings PER WEEK, as well as classes in Dalcroze Eurhythmics, Improvisation, among others.
Every day, students have two designated hours of mandatory individual practice time and two hours of chamber music rehearsal, often with guidance from faculty and counselors.
Fostering an immersive musical environment, students attend 3 faculty concerts with opportunities to observe their teachers' rehearsals, as they prepare for their own performances.
Private instruction lies at the heart of growth for every musician. As the key to the success for all of our students, two 60-min lessons are provided to every student each week. Students are given a minimum of 2 hours every day to prepare and practice the skills developed in their lessons in order to make immense leaps in their development during this short amount of time.
Chamber Music provides students the opportunity to focus on honing their abilities as artists while learning the invaluable life lessons in communication and collaboration, all while exploring some of the greatest music ever written. Our faculty guide young chamber groups on this journey through 2 hour-long coachings per week. Students are expected to rehearse an additional 6 hrs per week on their own and with their helper coaches.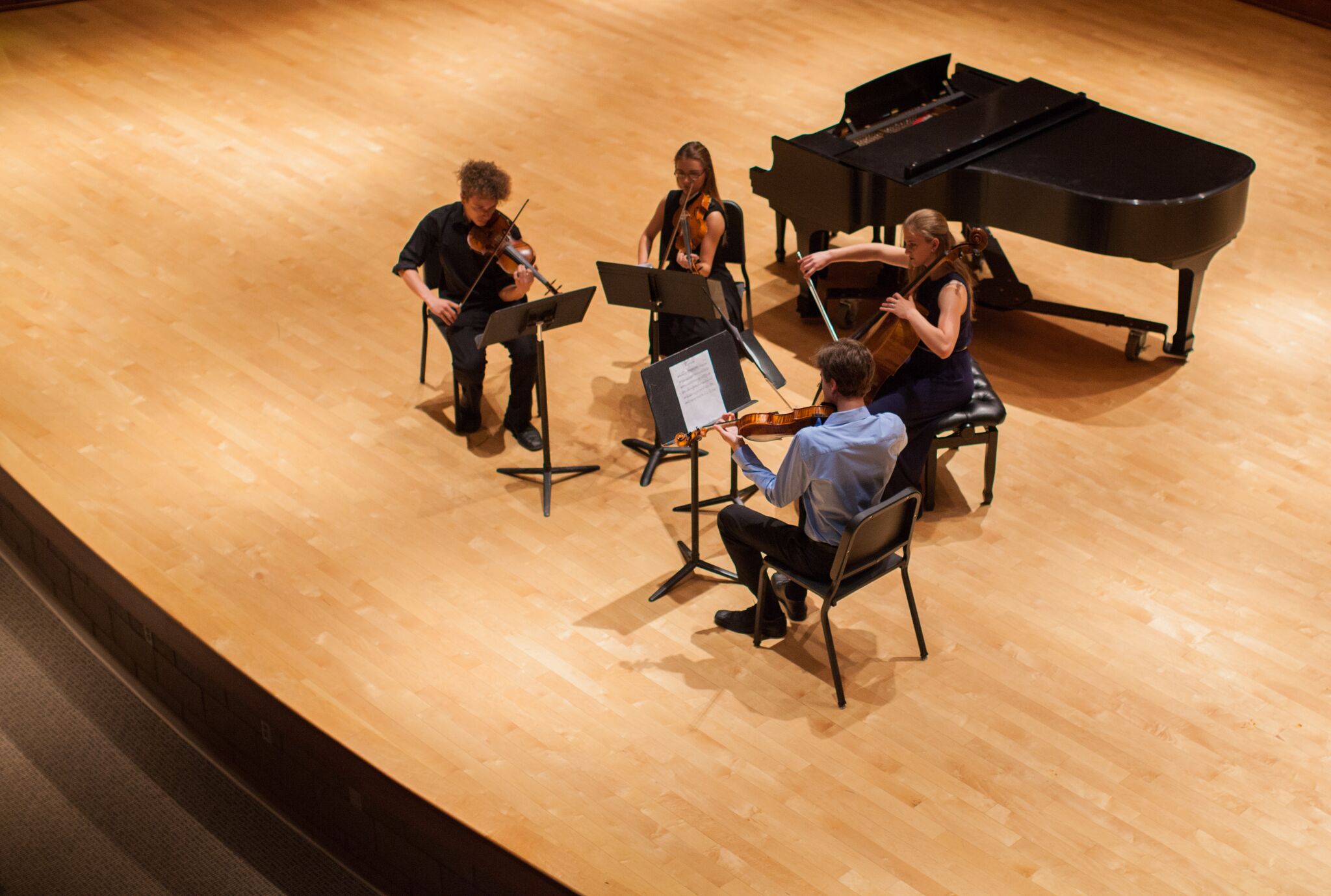 Over the course of 3 weeks, students will have several solo and chamber group performance opportunities through weekly faculty studio classes, masterclasses, as well as 5 student concerts on and off campus.
Students are able to compete in the Rushmore Music Festival's annual Chamber Music Competition. One student is chosen for Outstanding Achievement Award to receive scholarship to attend future season, as well an invitation to perform a work side-by-side with faculty on the Faculty Concert Series.
Through classes led by one of the leading instructors of Dalcroze Eurhythmics, Dr. Michael Joviala, students will learn to embody and express their creativity while having fun learning valuable music communication skills.
The Dalcroze approach consists of three components: Eurhythmics, which teaches concepts of rhythm, structure, and musical expression through movement; Solfège, which develops an understanding of pitch, scale, and tonality through activities emphasizing aural comprehension and vocal improvisation; and Improvisation, which develops an understanding of form and meaning through spontaneous musical creation using movement, voice and instruments.
Added in 2019, Summer Academy students will have one week of engaging, interactive drama classes with Black Hills Community Theatre's Artistic Director, Zach Curtis.